Welcome to the home page of a keyboard aficionado.
Upcoming concerts
Click here for a poster! I'll play a programme with Dutch organ compositions by Sweelinck, Bute, van Noordt, De Lange Jr., etc, in Graz, Heilandskirche at Kaiser-Josef-Platz. Be there on 4 May 2008 at 7:30pm! I'm playing the "virtual" Arp-Schnitger-organ (1719) of the Grote Kerk in Zwolle, The Netherlands.
Also: Italian baroque at the historic Mitterreither-organ (1718). Trombonist Alexander Ladreiter and I will play free works and chorale preludes by Byrd, Frescobaldi, Froberger, Scheidt, J.S. Bach and Muffat. Stiftskirche Göss in Leoben, Sat. 10 May 2008 at 7pm.
About me
From 2000 to 2005, I studied the organ at the Rotterdams Conservatorium with Aart Bergwerff. The organ is really my instrument, about from the time when I was six years old. Besides that, I quite like strumming the piano, as you can see on the picture to the left.
From 1998 to 2005, I served as organist and pianist at the Scots International Church in Rotterdam, jointly with Jan-Hendrik van de Kamp. Also, I regularly played the organs in the Marekerk and the Academiegebouw in Leiden.
Currently I am abroad: I'm living in Graz, Austria, to work on a mathematical project. Click here for my maths homepage.
Read all about my final exam concert (conservatory, 2005) on the final exam page (with MP3s!).
With some interesting pics: the organ and myself!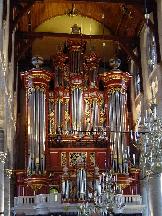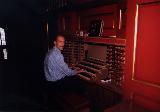 Some recent concerts I played in Linz (with MP3s!):
the Christmas concert (15 Dec 2005);
and the Organ Vesper (20 Mar 2007).